Celebrating the accomplishments of and highlighting developments pertaining to AMIE partners and related organizations, here's what's in the news:
New Dean Appointed to Lead Morgan State University's Clarence M. Mitchell, Jr. School of Engineering
George Mason University's Dr. Oscar Barton Tapped to Continue Legacy of Producing Minority Engineers, Further Positioning Morgan's Leadership in Science and Engineering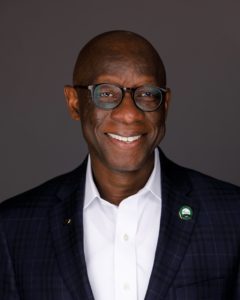 Morgan State University (MSU) President David K. Wilson has announced the appointment of Oscar Barton, Jr., Ph.D., P.E., as the University's new dean of the Clarence M. Mitchell, Jr., School of Engineering. In his new capacity as dean, Barton will implement a vision for innovative strategic growth; provide leadership through a shared governance process of dynamic faculty, staff and students; manage multiple research centers and facilities; administer the School's budget; develop curricula and advance academic and research programs that prepare students for careers in the industries of the future. Read the full announcement here.
_______________________________________________________________
The  United States Senate on Tuesday voted unanimously to confirm Gen. Charles Q. Brown Jr. as the 22nd Air Force chief of staff.  According to the Office of the Secretary of the Air Force for Public Affairs, the vote was 98-0. Brown, a decorated pilot, will become the first African American in history to lead a branch of the U.S. military. Brown currently serves as the U.S. Pacific Air Forces commander and the air component commander of U.S. Indo-Pacific Command at Joint Base Pearl Harbor-Hickam in Hawaii. The U.S. Pacific Air Forces is responsible for Air Force activities in a command that supports more than 46,000 Airmen serving principally in Japan, South Korea, Hawaii, Alaska and Guam. Read the full article here.
_______________________________________________________________
Career Communications Group Announces New Weekly High-Tech Sunday Series to Engage STEM Community
This new podcast will blend discussions regarding technological achievements using universal principles. The series will feature weekly speakers and aims to engage and inform the community. Learn more
here
.
_______________________________________________________________
Black Engineer of the Year Awards conference founders, DeLoatch and Taborn to receive 2019 NSB Public Service Award (the first African Americans to receive this honor!)
The National Science Board (NSB, Board) is pleased to announce that Eugene DeLoatch and Tyrone Taborn will jointly receive the 2019 NSB Public Service Award. This esteemed award honors exemplary service in promoting public understanding of science and engineering.
DeLoatch is professor and dean emeritus at Clarence M. Mitchell, Jr. School of Engineering at Morgan State University and Taborn is publisher and chief executive officer of Career Communications Group, Inc. Together, they are being recognized for founding the Black Engineer of the Year Awards (BEYA) conference and for their dedication to enhancing scientific and engineering literacy in minority communities.
Read the full article about this historic honor here: DeLoatch and Taborn to receive 2019 NSB Public Service Award.
AAMU-RISE Foundation
The AAMU-RISE Foundation is the contracting entity for Alabama A&M University. Our business is research and development, which is critical to innovation because it is the investment in technology that enhances capabilities and transforms ideas into products, processes, and services. 
The AAMU-RISE Foundation is capable of serving as either a prime or subcontractor to manufacture products or provide innovative services that the U.S. government must have.​ In today's fast-paced, dynamic environment, the government's urgent need to solve real-world, complex, problems demands the collaboration of diverse minds and resources. The AAMU-RISE Foundation is ready to collaborate.
To learn more visit AAMU-RISE Foundation.
UNCF (the United Negro College Fund)  has released a new one-of-a-kind historically black college and university (HBCU) economic impact report titled, HBCUs Make America Strong: The Positive Economic Impact of Historically Black Colleges and Universities.
This landmark study changes the narrative about HBCUs and details how much HBCUs support and make a difference in local, state and national job creation and economic development.  Underwritten by the Citi Foundation and prepared by the University of Georgia's Selig Center for Economic Growth, the UNCF report also includes HBCU-and state-specific data.
The UNCF HBCU economic impact study finds that America's HBCUs inject billions of dollars in economic impact into the national economy.  Specifically, the UNCF study finds that: 
Total economic impact of HBCU spending in the United States is $14.8 billion annually; the equivalent to a ranking among the top 200 corporations on the Fortune 500 list.
Every dollar spent by an HBCU and its students generates $1.44 in initial and subsequent spending for the institution's      local and regional economies; particularly significant as many HBCUs are in southern communities where overall economic growth has lagged.
HBCUs generate roughly 134,000 jobs annually for their local and regional economies, including on-campus and off-site jobs, equating to approximately 13 jobs created for each $1 million initially spent by HBCUs.
HBCU graduates, over 50,000 in 2014, can expect to earn $130 billion over their working lifetimes—an additional $927,000 per graduate or 56 percent more than they could expect to earn without their HBCU degrees or certificates.
The UNCF HBCU economic impact study, including its findings for 100 HBCUs in 19 States, the District of Columbia and the Virgin Islands, can be accessed at:  UNCF.org/HBCUsMakeAmericaStrong.
Please help to spread this positive narrative about the nation's HBCUs on social media using the hashtag #HBCUStrong